Long ago I used to post reviews with some frequency. Mostly movies, but occasionally other media or products as well. That is now making a comeback thanks to my signing up for BzzAgent. It's a really great setup: Free signup. They send me free stuff. I review it. Does it really get better?
The first of these new reviews will be for the Rescue Bots Beam Box, a "my first console" of sorts for small kids. I received it free from BzzAgent.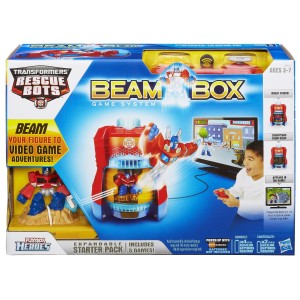 It is worth saying up front that my 2 & 4 year old's aren't into Transformers or Rescue Bots, and in general are pretty hesitant to jump into violent or 'scary' shows (personal issues and parenting set aside). They don't like stuff with 'bad guys' and I'm not in a hurry to force it on them. They do love video games though. I was hoping that Rescue Bots would fit the bill as a non-violent, no 'bad guys' introduction to more 'action' oriented games than the puzzle and sports games they've been playing.